He showed up at her doorstep every Sunday, like nothing had changed. A yellow rose in one hand and chocolate in another, he would call her and ask if she will have coffee with him. She would look out of her room balcony on second floor and refuse. He would leave the gifts with her mother and leave.
Today she agreed for the coffee. As he extended his hand, she placed hers in his hands and gave a feeble smile. No one was willing to take it back, to let this moment end. She started crying, thinking of the baby she had lost. He kept smiling, she needed that strength from him.
She still went back to her mother's.
He ordered flowers and chocolates for the next Sunday.
This is my 100(ish) word story for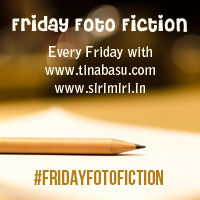 Check other #fridayfotofiction linked to Tina's posts here.
My previous short fiction posts are here.