"You can't love me,you can't talk about me and you certainly will not search me if I am gone"
"You mean, when you are gone" , she corrected him
He frowned. Did she even understand what he had just said , he wondered.
As if reading his mind, she smiled and typed a little more
"You can not stop me from loving you ,rest I will promise to follow. But am telling you, this is not the last time you will hear from me"and then she logged out from that id forever. She knew he would delete his account immediately.
*
Years later she published a book and her interviews filled the papers. He smiled looking at her photograph. He would have to read the book; she was bound to write about him, to him.
– –
This is my 100(ish) word story for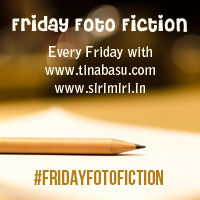 Check other #fridayfotofiction linked to Tina's posts here.
My previous short fiction posts are here.